Serbia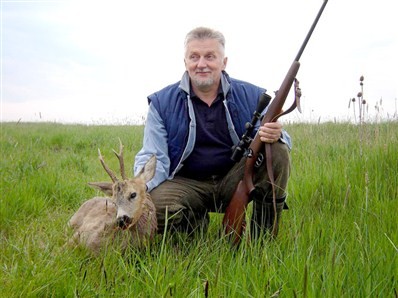 The hunting grounds of Serbia are among the best-known in Europe and the natural conditions are excellent for breeding almost all kinds of game The many first-class trophys and the world and European champion specimens bred in Serbian hunting grounds – which stretch from the north to the south, from the flat plains of Vojvodina to the unspoilt mountainous regions – are ample proof of this.
Serbia has over 320 hunting grounds spread over an area of 6,500,000 hectares, 90% of which is managed by hunting associations. They comprise 24 enclosed hunting areas and 150 hunting lodges. The Hunting Association of Serbia formulates a price list for hunted gameand the Ministry of Agriculture, Forestry and Water Management determines the start and end of the hunting season. Hunting grounds are run by woodland management teams under the auspices of the state-owned Srbijašume and Vojvodinašume companies, as well as local hunting associations which are members of the Serbian HuntingFederation. High quality hunting weapons are produced in Serbia, too, and exported around the world.
MOST COMMON GAME IN SERBIA
:Mammals
beech marten
brown bear
brown hare
chamois
edible dormouse
European badger
European pine marten
fallow deer
fox
grey wolf
jackal
least weasel
mouflon
muskrat
raccoon dog
red deer
red squirrel
roe deer
skunk.
white-tailed deer
wild boar
wildcat
Birds

Bean Goose
Black-Billed Magpie
Common Pheasant
Common Pochard
Common Quail
Common Wood-Pigeon,
Eurasian Collared Dove
Eurasian Coot
Eurasian Jay
Eurasian Teal
Eurasian Woodcock
European Turtle-Dove
Greater White-Fronted Goose
Grey Heron
Grey Partridge
Greylag Goose
Hazel Grouse
Hooded Crow
Mallard
Northern Goshawk
Rock Partridge
Rock Pigeon
Rook
Stock Pigeon
HUNTING TOURISM
Hunting tourism in Serbia is well-established and has strict rules of conduct, from crossing borders, travelling to the hunting ground, obtaining weapons and ammunition licences and qualified guides, as well as veterinary licences and all other requirements for exporting game. A hunters can hunt and train hunting dogs in hunting grounds only with the mediation of an authorised agency which has signed a contract with the user of the hunting ground. The hunter must possess documentation for hunting weapons, ammunition, optical sights and hunting dogs. Only the species of game listed on the hunting licence may be shot, and with the approval of the qualified escort. Before the hunter can remove the shot game and its parts (trophy, meat, skin) from the hunting ground, he or she must make payment according to the price list of the hunting association.
Gallery